The Solidarity Economy Organisers Network, or SE-ON, is a project launched by SEA in 2021 to bring together often disparate groups working at the grassroots of the solidarity economy, to weave relationships between groups and movements and build an ecologically sustainable, resilient and socially just economic system.
In December 2021, current members of SE-ON: Migrants Organising for Rights and Empowerment, the Class Work Project, Decolonising Economics and the Solidarity Economy Association, came together for a three day residential event in Manchester.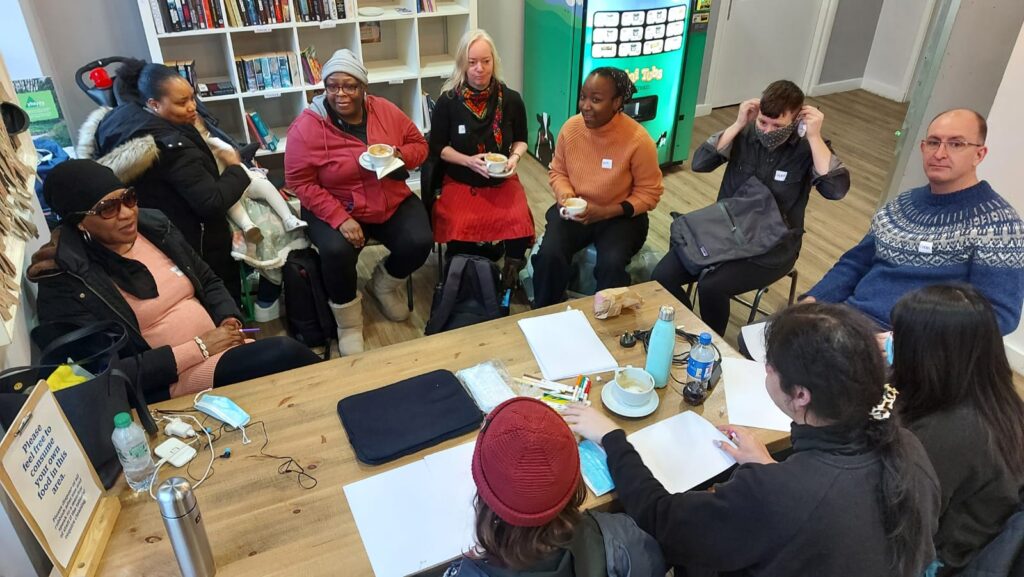 This gathering together took place at the end of our first 5-month pilot of this project, and it was an invaluable opportunity to develop real trust and understanding between us, as well as learning more about each others' organising and begin to make plans for the future. We gave mini presentations about each of our organisations and held grouped and paired exercises, especially bringing together folks who were meeting for the first time.
Sessions included creative exercises, such as an ice-breaking drawing activity to visualise what a 'solidarity economy' would look like in the world we want to live in, as well as a 'River of Life' activity, tracing our paths to political and community organising, with a drawing and small group discussions. Our drawings gave us a chance to express our histories in different ways, as well as visioning what a future world might look like, with fairness and empathy leading the way, and class, and racial disparities handled more equitably.
Most of our meetings throughout this time were held at Partisan, an independent space for community-led DIY and cultural projects in Manchester. We also had the chance to socialise together in the evenings and to take a group trip to the People's History Museum in Manchester, as well as taking part in our first visioning exercise for SE-ON.
We ended the meetings part of our time together with two strategy session, mapping out our shared visions for the future we want to create, discussing our experiences of building the network and working together so far, and how to grow and develop together as well as expanding out.
Although these are early days and we have only completed the first trial phase of SE-ON, we're excited to see how this network will develop.